Back to normal? Well, not exactly. Golf in the year 2021 never looked entirely like it had prior to the COVID pandemic. (Then again, did anything?) Thankfully, though, starting in the late spring, it began to sound something like its former self, at least at the professional level. The PGA Championship at Kiawah Island in May was the "Roar by the Shore" we'd all been waiting for—who knew we might miss the "Mashed Potatoes" bros?—and subsequent tournaments continued to pump up the volume.
A calendar overflowing with tournaments around the world offered steady intrigue in both the men's and women's games. There were historic firsts, age-defying feats and comebacks all around. There were rivalries playing out on the course (Jin Young Ko vs. Nelly Korda) and off it (Bryson vs. Brooks). There were moments of joy (the U.S. Ryder Cup victory), surprise (the European Solheim Cup victory), shock (Jon Rahm behind the 18th green on Saturday at the Memorial) and horror (Tiger's car accident). And at the recreational level, open tee times remained a rumor swirling in other towns and the arrival of new golf club order became a high holy days.
The return of our annual Newsmakers package, then, provides the best opportunity to assess where golf is, where it might be going and how exactly it gets there. In counting down our top 25 Newsmakers, we'll work once again at shining a light on the individuals, teams, tournaments and topics that helped define the year. Some are obvious, others less so. All have their own compelling stories. —Ryan Herrington
No. 2: The Feud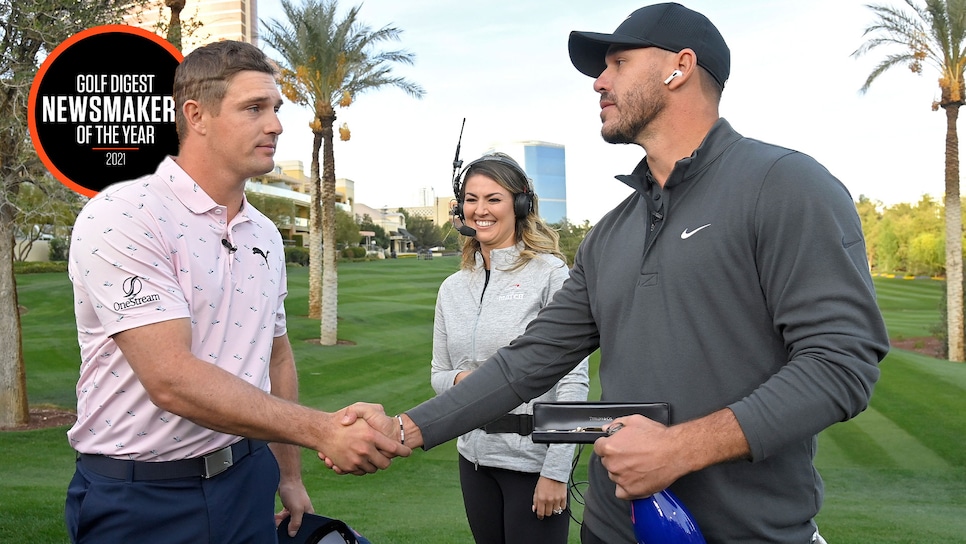 If it's Newsmakers you want, well, nothing in golf owned more news cycles in 2021 than the feud between Brooks Koepka and Bryson DeChambeau. It sizzled and simmered throughout the summer, delighting and maybe even, at times, exhausting golf fans.
The genesis of this conflict did not occur this year; there had been quips, sub-tweets, one-liners and putting-green confrontations prior to 2021. In fact, all had been mostly quiet in the Brooks v. Bryson quarrel for most of the first half of the year.
Then came the PGA Championship leak seen around the world, and, well, this beef went mainstream. The outtake of Koepka's abandoned interview with Golf Channel, as the unsuspecting Bryson comes click-clacking behind, was an instant hit for this social-media moment. It showed up on some mysterious Twitter account and quickly racked up 10 million views before it was zapped. It all felt very new to golf: An out-in-the-open expression of genuine disgust, the affirmation of a real beef, some profanity, the thrill of thinking you were seeing something you weren't supposed to and the birth of a meme that may last forever.
From there, it felt like every week something else surfaced that gave "The Feud" a shiny new headline, not so coincidentally perhaps in the first year of the lucrative PGA Tour Player Impact Program. Koepka, the one often doing the poking, said it was all "good for the game." When it was announced DeChambeau would dip his toe in The Match franchise and team up with Aaron Rodgers, Koepka tweeted his condolences to the Packers quarterback. When Bryson had a bizarrely timed split with his caddie, Brooks tweeted gratitude for his own looper and declared it "caddie appreciation day." When a temperamental Bryson said his driver "sucked" at The Open, Koepka made sure to profess his love for his driver the next day.
It was sport for Koepka, who seemed to be enjoying it all summer. Bryson was not an idle punching bag, however, jumping into the background of another Koepka interview at the next men's major at Torrey Pines. He snapped back at Koepka's tweet to Rodgers that it was "nice to be living rent-free" in his adversary's head. Koepka's response to that, a video of fans heckling DeChambeau at the PGA with shouts of "Brooksy," spawned a separate people's war that pushed the feud into places that some interpreted as "bullying" and was outlawed by the PGA Tour as "harassing behavior" by the end of the season. Rumors of fans being removed for shouting "Brooksy" around DeChambeau at Memorial was met with a cheeky beer-sponsor activation that bordered on incitement by Koepka. The shouts became de rigueur at every stop DeChambeau played, and despite his comments that he loved it, the heckles did cause a certain level of anguish.
Steve Stricker, who said the constant sniping was not "making his job any easier" as Ryder Cup captain, did ask for detente and a trouncing of the Europeans provoked handshakes and hugs, albeit forced. The feud went commercial to close out the year with a one-on-one made-for-TV Match, which Koepka won convincingly. In the hyping of that match, DeChambeau called Koepka's treatment "disgusting" and said it was motivated by the PIP, reinforcing that the beef was "all real on his end."
The feud may never get as hot and constant as it did in 2021, but the feelings of disdain are unresolved. It was as public a conflict as we've seen in golf in a long time, with two beefy superstars on both sides often leaning into the entertainment factor and making news for it more often than anyone in the game this year. —Brendan Porath
No. 3: Solheim Cup/Ryder Cup return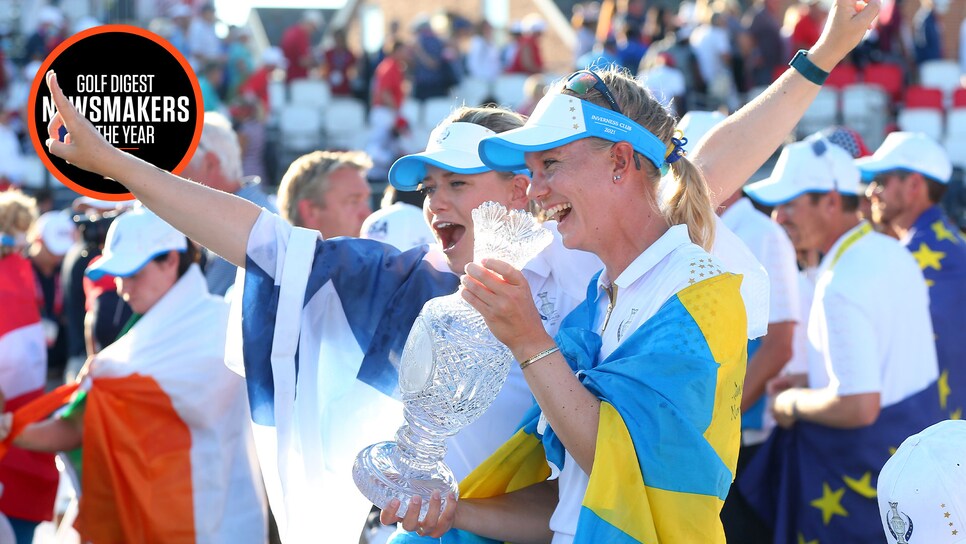 America's Solheim Cup and Ryder Cup teams might have enjoyed the greatest home-field advantages in memory—or perhaps ever?—in their respective competitions in 2021 what with travel restrictions from the pandemic limiting attendance by European supporters. The results from the two events were eye-opening, though, for different reasons. Start with the more recently completed Ryder Cup, which was expected to be of the donnybrook variety and ended up a thorough drubbing as Team USA registered a record 19-9 victory over a European team missing its usual depth.
Whistling Straits was not the equalizer some surmised, and the American team, youngest in history, had both motivation and mojo. And once it forged a lead, momentum was maintained with the help of a hungry crowd eager to see Wisconsin native son Steve Stricker, the American captain, cry with joy—which, of course, he did. A few weeks prior, at Inverness Club in Toledo, Ohio, the story was the same for the Europeans in terms of support, but the outcome was vastly different. Decided underdogs in the 17th Solheim Cup, Catriona Matthew's Euro dozen stymied the Americans and their fans with some of the most inspired golf played anywhere all year, on any tour.
Though America had five of the top 17 players in the world to just one for Europe (No. 16 Anna Nordqvist), the visitors somehow fashioned a 15-13 upset. Success came from surprising places, Ireland's Leona Maguire playing in the event for the first time and going an impressive 4-0-1, and Finland's Matilda Castren, not eligible to play in the event until just two months prior, coming through with the Cup clinching point to cap a 3-1 performance. It was the fourth time in six meetings that Team Europe came out on top, but only the second ever when playing in the U.S. "Just an amazing team," Matthew gushed in the aftermath, and the point was evident to all who witnessed the amazing outcome. —Dave Shedloski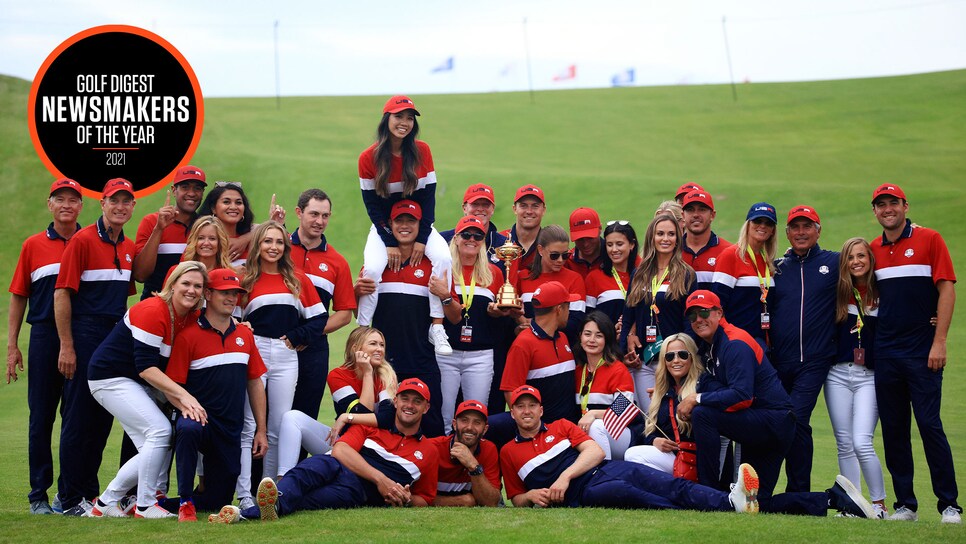 No. 4: Phil Mickelson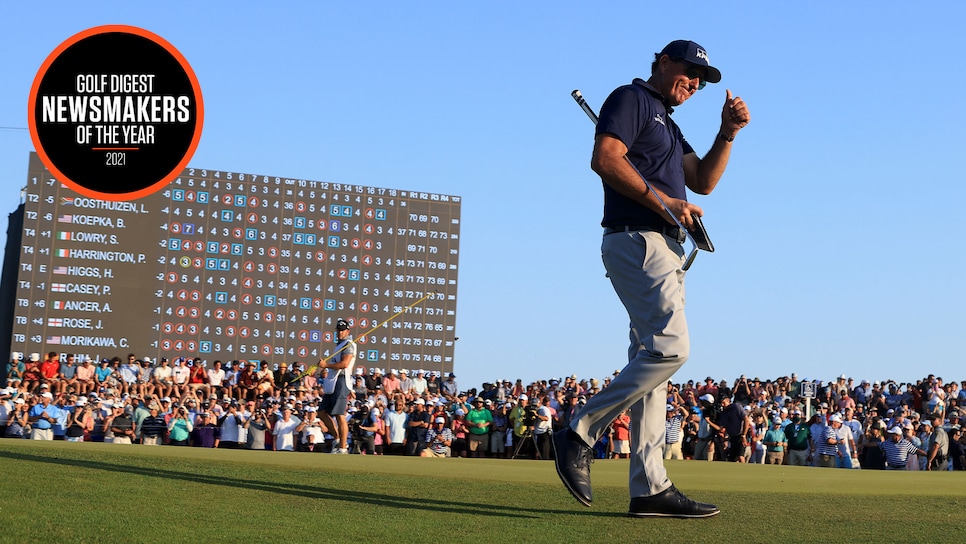 Phil Mickelson had just one top-10 finish on the PGA Tour in 2021. But boy did he make it count. En route to victory in May at the PGA Championship, the then 50-year-old became the oldest player in golf history to win a major championship—not to mention one of the biggest underdogs. Not surprisingly, he did it in thrilling fashion, too, holing out from a greenside bunker on the fifth hole early in the final round at Kiawah Island's Ocean Course to take command against playing partner Brooks Koepka and culminating with rowdy supporters swarming him as he marched up the 18th hole.
Months later, Mickelson revealed he went out of his way to be nice to Koepka that Sunday because he "didn't want to give him anything to feed off of," noting the younger star's penchant for being motivated by even the slightest slight. Whether that helped or not, it was the latest example of a Mickelson' brilliant golf mind that hasn't slowed a bit even 30 years removed from his first PGA Tour win (he celebrated that milestone in January). Mickelson hasn't slowed down off the course, either. Aside from claiming a sixth career major, he remained golf's biggest showman and one of the game's biggest stars through his social-media accounts, giving himself pep talks, live-tweeting Tuesday money matches and teaching people how to strengthen their calves.
Golf fans were also treated to his various TV appearances, most notably, on the Monday Night Football Manningcast—where he stole the show by taking a jab at Peyton for losing two Super Bowls and calling Eli's golf swing "cute"—and as a commentator alongside Charles Barkley for The Match between Brooks Koepka and Bryson DeChambeau. Perhaps no pro athlete has been more suited for a second career in the booth than Mickelson, but it's hard to stop playing when you're enjoying being the dominant force on the PGA Tour Champions—where he won twice in four starts in 2021. And when you've still got your hands on literally the largest trophy in all of golf. A fact that Phil was happy to remind everyone of—Koepka included—during the second half of the year. —Alex Myers
No. 5: Golf's Mental Health Awakening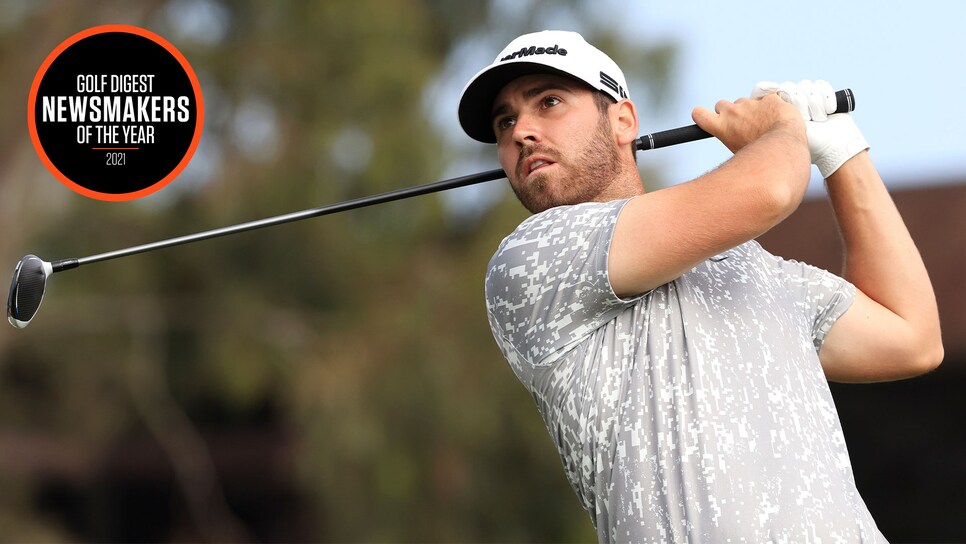 There is an awakening to the mental-health challenges inherent in sports, with athletes like Simone Biles and Naomi Osaka bringing a subject that's long lived in the shadows out into the light. Golf was no exception to the movement, and with good reason: Perhaps no game possesses as many cognitive and emotional obstacles, and despite the growing ecosystems and entourages around tour players, life in the professional ranks can often be a solitary existence. In golf, Matthew Wolff became one of the faces of this reckoning.
The 22-year-old former NCAA champion entered the year as a fledgling superstar, fresh off contending at the 2020 PGA Championship and U.S. Open (the latter where he became the youngest player in tournament history to hold the 54-hole lead). But there were some puzzling displays—highlighted by a pair of WDs and a DQ at the Masters for signing an incorrect scorecard—that spurred whispers something wasn't right. Not long after Augusta, Wolff took an unannounced sabbatical, one that became public when he skipped the PGA Championship in May. He returned in June at the U.S. Open, and after a surprisingly solid first round, Wolff explained a lack of socialization was impacting his mental health, which was impacting his performance. And maybe his performance was impacting his mental health.
Not liking how things were going, and just as importantly, understanding the dangerous roads he was heading down, Wolff decided to press pause on his career. "I think the biggest thing right now that I'm trying to do is enjoy myself again and just take care of myself really," Wolff said at Torrey Pines. "I love these fans and I want to play well for them, but right now I'm just really trying to be happy and I, like I said, I live a great life and I want to enjoy it." Wolff was not alone. That same week at Torrey Pines, Akshay Bhatia, a young talent with a seemingly bright future, conceded he too was not having fun despite making the cut.
Prior to the U.S. Open, Bubba Watson offered support to Osaka (and later to Wolff), admitting to the many mental challenges he faces on a daily basis; he'd detail them in a memoir published in November. Fan favorite Max Homa has long been open about his battles to stay positive against the grind the sport demands. After taking the first-round lead at the KPMG Women's PGA Championship, Lizette Salas was open about her psychological struggles in dealing with the pandemic, and one of the more popular caddies on tour—John "Long Socks" McLaren—said he is taking an indefinite mental-health break from the sport. While it is a sobering discussion, it is a discussion that is gaining acceptance, as more and more are realizing it is OK to not be OK. —Joel Beall
No. 6: Challenges to the PGA Tour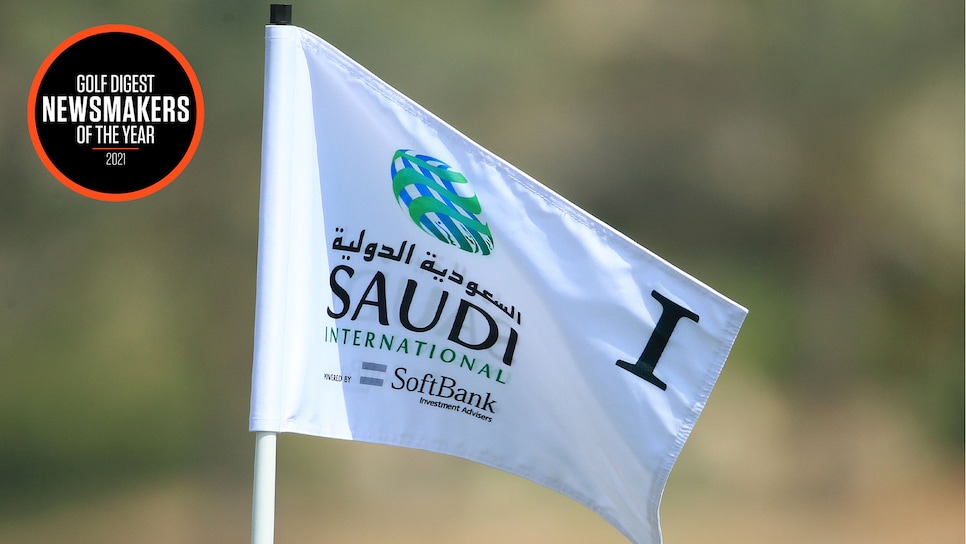 The arrival of the pandemic in 2020 did not just put a pause on the PGA Tour schedule and quiet the galleries, it also hushed the maneuvering and public speculation around disruptor leagues that threatening the tour's existence. But the return of a full schedule and some noise outside the ropes brought those challengers out of the shadows again in 2021.
Mind you, there were new wrinkles to these power plays, with the Premier Golf League, the challenger garnering all the attention in those weeks leading up to the pandemic, splitting with its Saudi funding. Instead, the Saudis created their own venture, which moved beyond media reports and driving-range gossip into an official press release announcing its name, LIV Golf Investments, and CEO, Greg Norman, before the year was out.
The re-emergence of these challengers, publicly, started in early May, with a Telegraph report of offers for $30 million or more to players like Dustin Johnson, Brooks Koepka and Phil Mickelson. At the time, the deals were understood to be from the PGL, but it quickly became clear there had been a Saudi split. Agents met with Saudi representatives during the PGA Championship, and PGA of America CEO Seth Waugh came out in support of the PGA Tour, threatening a Ryder Cup ban for defectors. Later in the year, Andy Gardiner, the original (and still) architect of the Premier Golf League, returned to the scene on the No Laying Up podcast, emphasizing their separation from the Saudis and proposing a partnership arrangement with the PGA Tour. The challengers forced the PGA Tour to react in ways that may or may not improve its product to fortify itself against these threats.
The Player Impact Program (PIP) entered our lexicon and will probably never leave it. With a new television deal kicking into effect, the arms race continues with dramatic purse increases coming down the pike. The year closes with a staring contest over waivers to play in the Saudi International, but the PGA Tour still safely the king of its hill. Still, that doesn't mean the status quo remains, as they have been and will continue to adapt to external challengers trying to reward their top stars with a greater piece of the pie. —B.P.
No. 7: Jon Rahm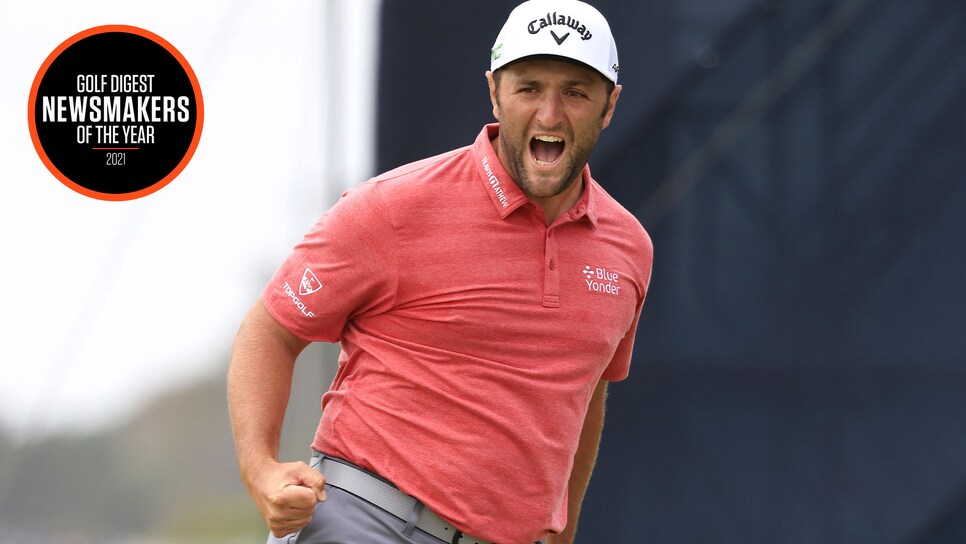 Jon Rahm may not have been voted Player of the Year on the PGA Tour, but the burly Spaniard racked up a phenomenal level of achievement over the course of 2021. The Arizona State graduate established himself as the man to beat in all of golf's most important events, topped by winning the U.S. Open at Torrey Pines in remarkable fashion with a birdie-birdie finish for his first career major. As it was, Rahm never placed lower than eighth in the other three majors, tying for fifth in the Masters and pulling up T-8 at the PGA and T-3 at the Open Championship. (Who knows what might have happened at the Olympics if what Rahm swears was a false positive COVID test didn't keep him from competing in Tokyo?)
He was also one of the few shining lights on a well-beaten European side at the Ryder Cup; it took an inspired Sunday singles performance from Scottie Scheffler to inflict Rahm's only defeat in five matches. Statistically, Rahm was peerless on the PGA Tour. Even his unfortunate withdrawal at the Memorial due to his first positive COVID test, after leading by six shots with 18 holes to play, could not disguise his overall superiority. Top of the money list with earnings of $7,705,933, Rahm's scoring average of 69.3 led the tour, as did his propensity for making birdies. On average, he carded 18 over the course of every 72 holes. Only one man topped Rahm's 71.93 percentage in the greens in regulation category (congrats to Cameron Percy).
Then there is the World Ranking. Such is Rahm's superiority, he has topped the list since July, no one able to pass him even though he hasn't played a competitive round since mid-October. Not once over the last 12 months has he slipped lower than third. Oh, and he became a proud papa to baby boy Kepa in April and opened up for the first time about being born with a club foot that explains his short backswing. So quite a year. Expect more of the same in 2022. At just 27, chances are we have yet to see the best of golf's best player. —John Huggan
No. 8: Nelly Korda & Jin Young Ko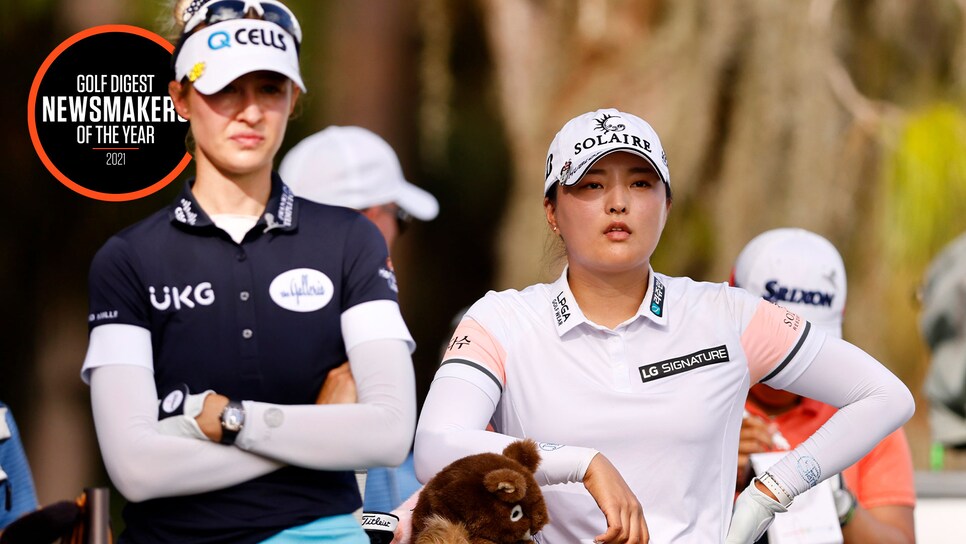 For all the hot air and hand-wringing exhausted over the feud between Bryson DeChambeau and Brook Koepka in 2021, the best on-course rivalry in golf was happening elsewhere. On the LPGA Tour, Jin Young Ko and Nelly Korda had separated themselves from their peers over the course of the season. The 26-year-old South Korean and a 23-year-old American traded the No. 1 spot in the Rolex World Ranking as both players won four times on tour before the season's final event, the CME Group Tour Championship.
When they arrived at Tiburon Golf Club in Naples, Fla., the tour's biggest honor was still up for grabs: Rolex Player of the Year. Each had gotten to this point following different paths. Korda's wins spanned from February to November and included her first major championship, the KPMG Women's PGA (she also could boast having won the gold medal at the Tokyo Olympics).
Ko packed her four victories into an eight-tournament stretch (one that also included a tour-record-tying 14 straight rounds in the 60s) just before the finale, the early part of her 2021 season slowed as she mourned the death of her grandmother. It came down to Sunday's final round, both players in a four-way tie for the tournament lead with 18 holes remaining. In the end, Ko's late-season momentum continued. Despite nursing a wrist injury that limited her practice routine, Ko shot a statement-making nine-under 63 to win the tournament, claim the $1.5 million first prize and earn POY honors for the second time in three years.
Over her last 63 holes, Ko hit every green in regulation, a bit of perfection that proved necessary to fend off Korda. "I was really sad early in the year. I couldn't think that I could win again," Ko said after the round as she spoke emotionally about her return to competition. Meanwhile, Korda had no regrets about her performance in 2021. "You may come out of this thinking, 'Hey, I didn't win an award. It wasn't that good of a year.' If I look back, it's like, 'Jesus, I've done a lot.'" Best of all, both Ko and Korda appear motivated to continue their duel into 2022 and beyond. —Keely Levins
No. 9: Hideki Matsuyama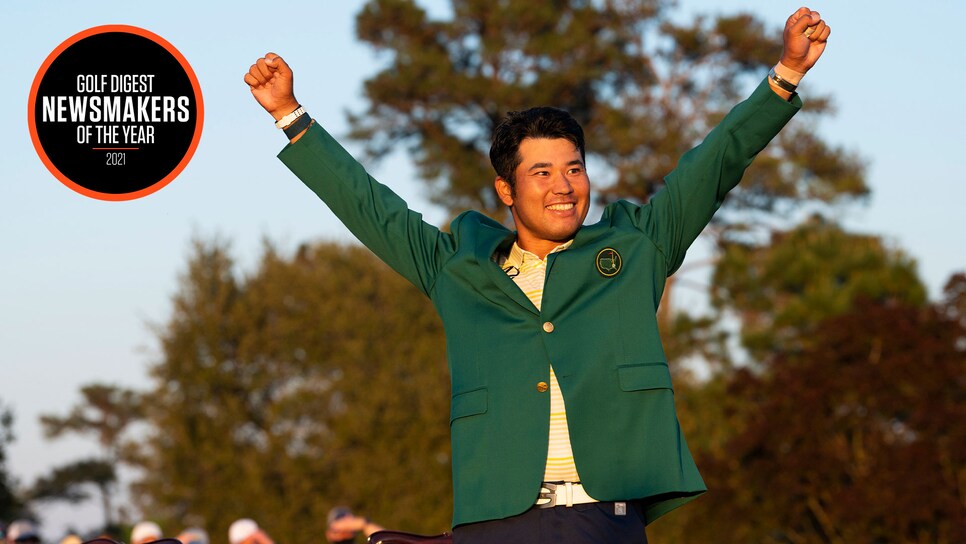 When Japan's Hideki Matsuyama won the 2014 Memorial for his first PGA Tour title, tournament host Jack Nicklaus weighed the youngster's potential and estimated that, "you've just seen the start of what's going to be truly one of the world's great players over the next 10 to 15 years." Yet, that prediction was looking wildly optimistic as Matsuyama began 2021. Though remaining among the top 30 in the world, Matsuyama had gone more than three years without a victory and hadn't posted a top-10 finish in a major since the 2017 PGA Championship.
Then came the 85th Masters, where the 29-year-old got his putter to complement his perennially fine ball-striking. He built a four-stroke lead through 54 holes after a sterling Saturday 65—easily the round of the tournament—and held off Will Zalatoris by a stroke to become the first Japanese player to win a men's major championship. That the victory came in front of a limited number of patrons and without the usual plethora of Japanese media trailing him due to the COVID pandemic wasn't lost on some.
The quiet, private man had done well to handle the weight of expectations born of his early success. In the wake of his victory, however, Matsuyama's already considerable fame at home reached new levels—and increased expectations once more. Matsuyama had a chance to make further history in July when the Olympics were held in Tokyo, falling just short of the bronze medal in a seven-man playoff. He more than made up for it, though, less than three months later when he gave his country another thrill with a dominating five-stroke win in the PGA Tour's Zozo Championship in Chiba, Japan. Sure, there were players who won more than Matsuyama in 2021, but few enjoyed a more meaningful year. —D.S.
No. 10: Bryson DeChambeau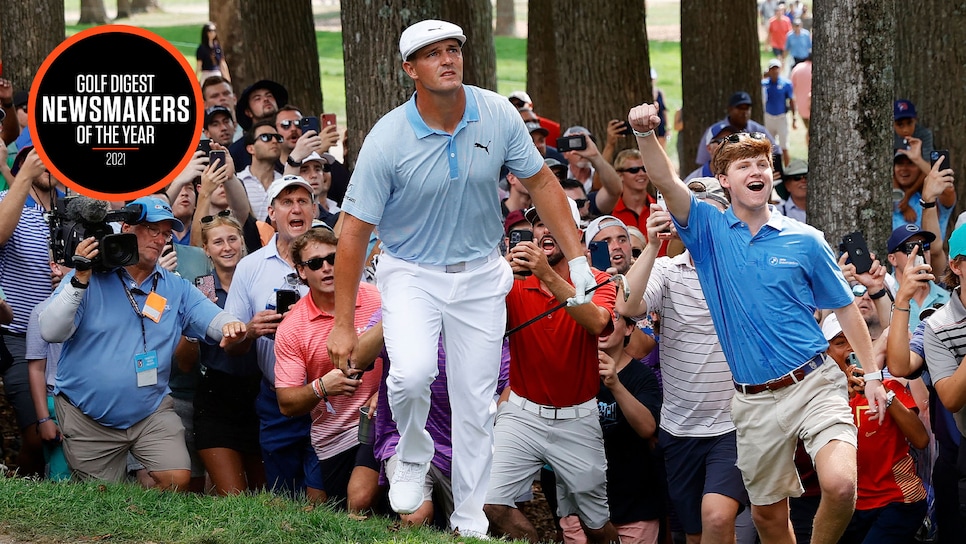 Bryson DeChambeau's 2021 was, well, a lot of things. The one thing it wasn't was quiet. Entering the year off his U.S. Open win—perhaps more specifically, the way he tamed Winged Foot—the paradigm shift DeChambeau had promised to bring was the game's foremost conversation. That talk was amplified by a victory at the Arnold Palmer Invitational in March—punctuated by a "Did you see that?!?!" bomb at Bay Hill's par-5 sixth—and a T-3 at the Players Championship the following week. But then, for the second time in the 2020-21 super season, Bryson came out on the business end of Augusta National, and in the month following the Masters, his narrative changed dramatically.
DeChambeau entered the final round of the PGA Championship with a puncher's chance at the Wanamaker (T-7 after 54 holes, five back) but on Sunday it was Kiawah's Ocean Course that delivered the blows, DeChambeau laboring to a final-round 77 to plummet to T-38. The score proved to be the least of his worries, as a clip of Brooks Koepka eye-rolling as DeChambeau walked past went viral. Koepka, never one afraid to needle, leaned into the response, and when DeChambeau tried to counter that he was "living rent-free" in Koepka's head, the Internet responded with a clip of DeChambeau kicking out a fan at the PGA for a pro-Brooks comment.
The Koepka catcalls grew in number and strengthened in voice as the summer rolled on, DeChambeau missing his chance to silence the noise when his run at defending his U.S. Open crown at Torrey Pines collapsed with a back-nine 44. Amazingly things got worse. DeChambeau's caddie Tim Tucker quit on the eve of the Rocket Mortgage Classic, and DeChambeau got into a new controversy when he ripped his equipment manufacturer Cobra at the Open Championship, infamously saying his driver "sucks" … only to have a Cobra representative rip him back. DeChambeau qualified for the Olympics but had to withdraw due to a positive-COVID test. Subsequently he made a misinformed statement about vaccinations in the United States and soon began a media protest when his comments were ridiculed.
The pro-Brooks jeers at the WGC-FedEx St. Jude Classic and BMW Championship reached such a fury that PGA Tour commissioner Jay Monahan to issued an edict that any fans caught yelling "Brooksy" in Bryson's direction would be tossed from the premises. In short, the guy who appeared to be on the precipice of "breaking" the sport appeared near his own breaking point.
But DeChambeau found salvation off the shores of Lake Michigan in September. He was the biggest draw at the Ryder Cup and used the crowd's patriotic leanings to his advantage, becoming a fan favorite over three days at Whistling Straits and turning in a 2-0-1 record in the Americans' blowout of the Europeans. He turned in an impressive showing the following week at a Long Drive event, and his feud with Brooks ultimately led to financial gain by taking on Koepka in the latest rendition of "The Match" over Thanksgiving weekend. No, DeChambeau's 2021 did not turn out the way he hoped. But make no mistake: The man is still its chief disrupter. —J.B.
No. 11: Crowds return but COVID lingers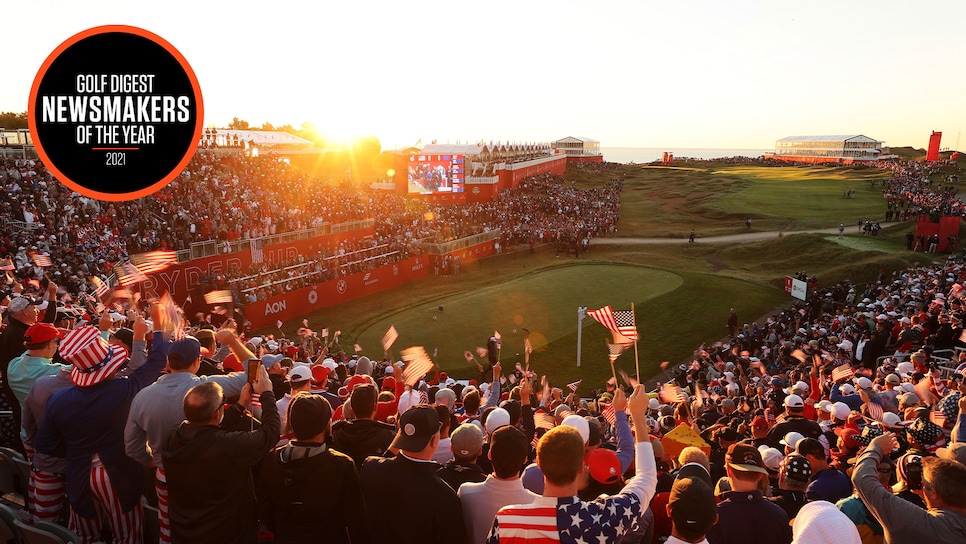 It was a true sign of a return to some sense of normalcy amid the COVID-19 pandemic, even if it made some viewers (and probably a few PGA Tour execs) queasy. On the first Sunday in March, as Bryson DeChambeau bombed his ball around Bay Hill en route to his eighth career tour victory, a large throng of boisterous fans gathered to watch his every shot.
The Arnold Palmer Invitational was welcoming the largest crowds since the start of the pandemic—said to be in the 8,000 range—and despite signage all around the golf course urging spectators to wear masks and mind their social distancing, many could be seen on television without face coverings. They were packed shoulder-to-shoulder, too, on the holes down the tournament's final stretch. It seems maybe a quaint concern now since major sports in America have returned to hosting full houses (and college kids storm football fields by the tens of thousands), but it marked golf's somewhat uneasy first steps back to having fans.
Through the spring and early summer, the sport still played it cautiously, with limited galleries at the Masters, PGA Championship and U.S. Open. But by the time the Ryder Cup arrived at Whistling Straits in late September, it felt as if the virus was a thing of the past. It wasn't, of course, as evidenced by few fans from Europe being able to travel to the U.S. to watch the action in Wisconsin (or come to see the Solheim Cup in Ohio earlier in the month). And then the omicron variant surfaced, in November, wreaking havoc on the DP World Tour South African swing and again causing concern about what the future might bring.
The PGA Tour, which required weekly testing of players until July, can now be compared favorably to other sports that have faced more challenges with larger numbers of positive COVID-19 tests. There was, of course, the high-profile withdrawal of Jon Rahm when he was leading the Memorial, and then Rahm tested positive again and stay home from the Olympics as well. "I can guarantee you I didn't have COVID this time," said Rahm, who contended that his test results were either a false positive or he still had remnants from his first infection. It was a lesson for all of us in these strange times: Expect the unexpected. —Tod Leonard
No. 12: Collin Morikawa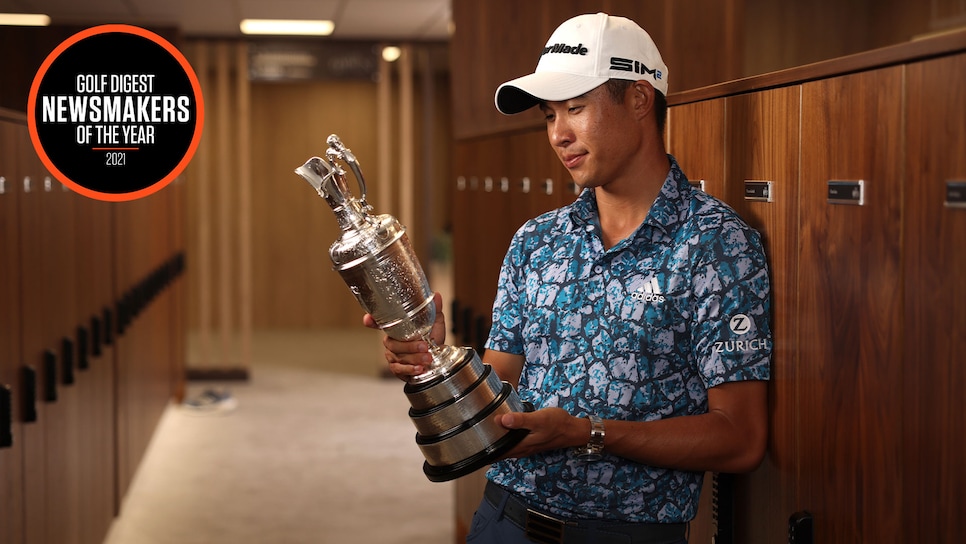 Collin Morikawa checked in at an ultra-respectable No. 12 on our Newsmakers list a year ago. He'd amassed three victories and a major championship in less than two years as a professional. "Two closing pars gave him the Wanamaker," we wrote of his Sunday at TPC Harding Park, "and gave golf its newest superstar." Those words were justified, for his rise to the stardom had been remarkably steep. In 2021, that rise kicked into an exponential gear, with his trajectory mirroring those of the all-time greats.
In February, he cruised past a field of the world's best players in winning his first World Golf Championship by three shots. With a masterful performance at Royal St. George's in his first Open Championship, he became just the fifth man to win two majors before his 25th birthday—and the first to win two separate majors in his first try. Two months later he went undefeated in his first Ryder Cup and sunk the clinching putt for a historically dominant American side. The 24-year-old managed to squeeze a little more history out of the year in November, when he won the DP World Tour Championship and became the first American to win the European Tour's season-long Race to Dubai.
It was his Tiger-like iron play that first jumped off the page; he's now supplemented that preternatural accuracy with a crunch-time focus that is the envy of his peers—he played the last 16 holes of his WGC victory bogey-free, the last 31 holes of his Open Championship victory bogey-free, and the last 41 holes of his DP World victory … repeat after us … bogey-free. In doing so, he has established himself as the game's premier closer and looks destined to soon become the World No. 1. The only downside? Kid's running out of things to win for the first time. —Dan Rapaport
No. 13: Patrick Cantlay
It was a decade ago that Patrick Cantlay became a player of interest among general golf fans when he earned low amateur honors at the 2011 U.S. Open followed by posting an opening 60 at the Travelers Championship, the low round in PGA Tour history from an amateur. Big things were expected from the former college player of the year at UCLA once he turned pro in 2012, but persistent injury issues and a horrible off-course tragedy delayed the start of a once-promising career.
Wins in 2017 and 2019 served as reminders of how good he could be, but it wasn't until the 2020-'21 Super Season that the 29-year-old from Long Beach, Calif., realized his full potential. It began with a win the previous October at the Zozo Championship before he added three marquee victories in the summer of 2021 (Memorial, BMW, Tour Championship). En route to winning the FedEx Cup title and being voted PGA Tour Player of the Year, Cantlay earned the slick nickname "Patty Ice" for the cool, calm way he seemed to close out tournaments—and for his never-let-them-see-you-sweat approach to the game in general.
He built on that reputation with a stone-cold killer performance for the U.S. team in the Ryder Cup, going 3-0-1 at Whistling Straits. While we all came to appreciate more about how he could handle pressure over the closing holes of a tournament in 2021, we also got to appreciate Cantlay's more cerebral side as well. After seeing first-hand fans' treatment of Bryson DeChambeau during their weekend play at the BMW Championship, Cantlay offered an impressively forthright response that identified Bryson's culpability but also the excessiveness in how he was being treated.
"I think if you look at the history of the game and you look at the respect that underlies the entirety of the history of the game, we shouldn't tolerate it, and we shouldn't celebrate that," he summarized. "We should celebrate the fan that is respectful and pulls for their side." Impressive on and off the course, it feels like Cantlay is just getting started, the next logical step being a major championship victory in his not-too-distant future. —Christopher Powers.
No. 14: Jordan Spieth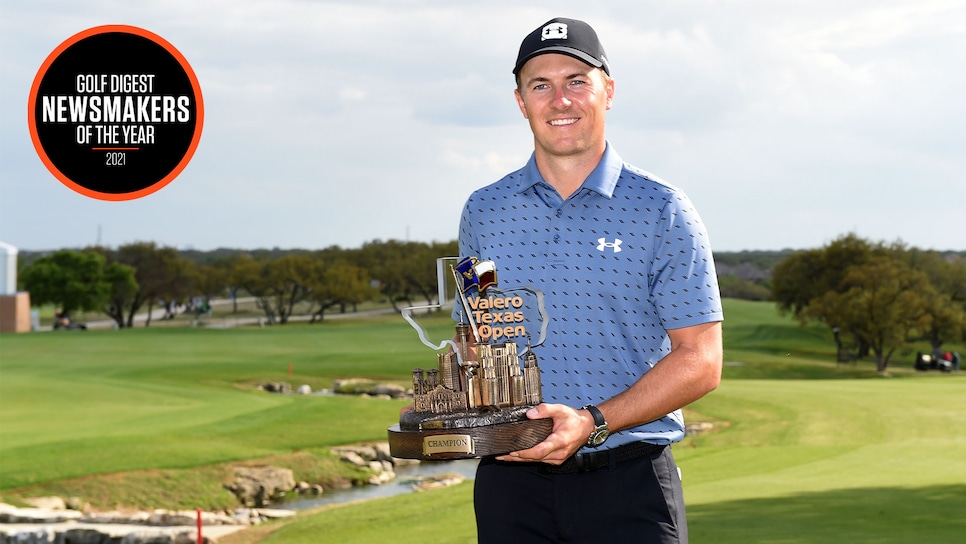 Jordan Spieth, a former World No. 1 back during his dream season in 2015, had fallen to 92nd in the Official World Golf Ranking after a missed cut at the Farmers Insurance Open in January. From there, however, he authored one of the best comeback stories of 2021. The three-time major winner racked up eight top-10s in his next 11 PGA Tour starts (after having only four in his previous 31).
The run was highlighted by a victory in April at the Valero Texas Open that snapped a winless drought of nearly four years. Spieth contended at the Masters (mind you, even in the midst of his "slump" he still showed well at Augusta National) and the Open Championship, whipping Golf Twitter into a frenzy along the way that proved his popularity never went anywhere even when he was struggling with his game. His performance made it easy for Steve Stricker to use a captain's pick on him for the U.S. at the Ryder Cup in late summer, a team Spieth would not have been on had the match been played as scheduled in 2020.
By November, Spieth had climbed back into the top 10 of the OWGR for the first time since 2017. Considering he's still only 28, we're guessing he's going to spend a lot more time there. As for the highlight of his year, it probably came off the course when he and wife Annie welcomed the birth of their first child in November. And if young Sammy is anything like his dad, he'll be talking—to his golf ball—a lot in the near future. —A.M.
No. 15: Justin Thomas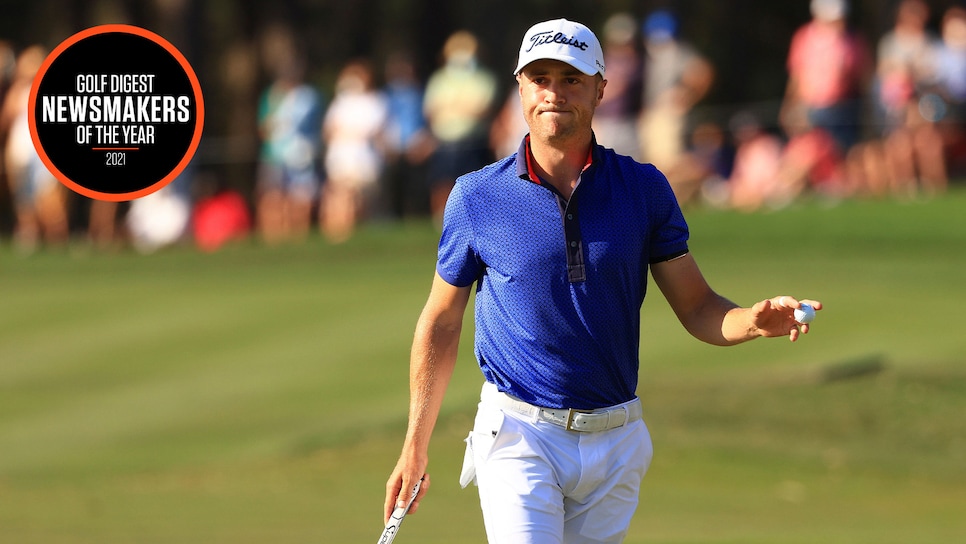 His grandfather died. He was humbled by a controversy he brought upon himself. One of his best friends was badly injured in a car accident. And then, when life seemed wrought with darkness and obstacles, he produced one of his greatest performances and seized the Players Championship. Remarkably, that was all in the first two and a half months of 2021, when Justin Thomas seemed to experience a lifetime of highs and lows.
After he captured the Players in mid-March with a record-setting 12-under score for the weekend, Thomas said, "I kept telling everyone on my team or my family I'm ready for something good to happen this year." The start of the year had wrecked him. Thomas created a controversy in Hawaii by using a homophobic slur caught by a TV microphone after missing a putt at the Sentry Tournament of Champions. He took ownership of the matter and apologized for his words, but saw one of his sponsors, Ralph Lauren, drop him in the aftermath. A month later, his father, Mike, called him before the final round in Phoenix to tell him his grandfather—instrumental in the Thomas family's golf legacy—had died.
A couple weeks later, his good buddy, Tiger Woods, was involved in horrific car accident in L.A. "We've been through a lot the last couple of months," Mike Thomas said. "I think it affected Justin quite a bit. He just kind of has not been himself the last month or so." Then Thomas rallied, big time, at TPC Sawgrass. Down three shots to Lee Westwood on the ninth tee on Sunday, Thomas went five under over the next four holes and ended up winning by a shot. The victory provided perspective on just how accomplished Thomas is, even if he seems to sometimes take a backseat when talk turns to the great players of his generation. He was 27 when he won the Players for his 14th PGA Tour win, and only three golfers have done that since 1960—Woods, Jack Nicklaus and Tiger Woods.
Though Thomas' putter betrayed him frequently during the 2020-21 season—he was 104th in strokes gained/putting—his superb ball-striking often made up for it. Impressively consistent, he had seven top-10s and finished in the top 25 in 65 percent of his starts. Away from competition, Thomas appeared immeasurably valuable as a frequent companion to Woods, who said in an interview with Golf Digest that "JT is like the brother I never had." In '21, they bonded through the darkness and the light. —T.L.
BONUS READ: Controversies that caused a stir in 2021
No. 16: Tokyo Olympics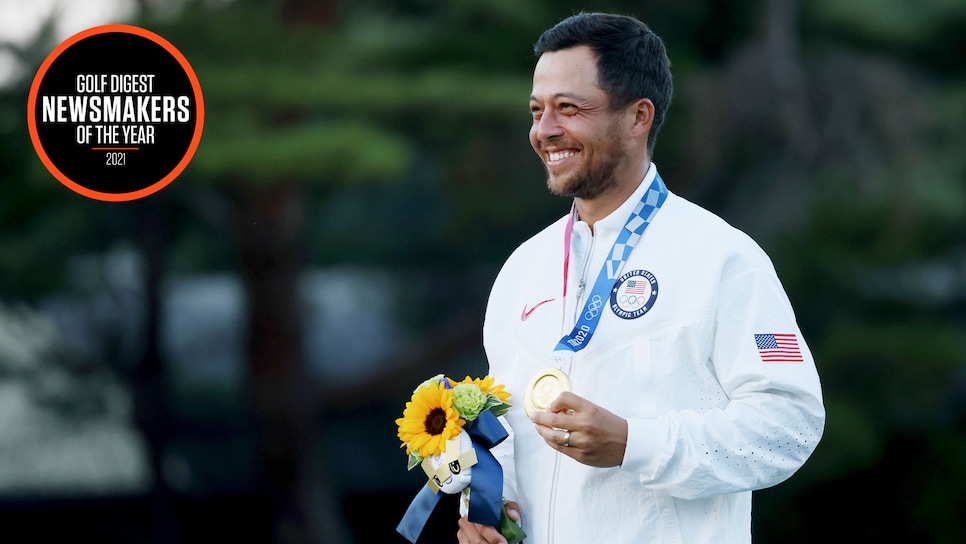 Five years after the Zika virus gave the world's best golfers an excuse to skip golf's return to the Olympics after an 112-year absence, the IOC's effort to lure superstars to Tokyo was hamstrung by another, more sinister viral adversary. The COVID-19 pandemic pushed back a fan-less Summer Games by a year and levied a set of health restrictions that proved too onerous for Dustin Johnson, Patrick Cantlay,
Brooks Koepka, Tyrell Hatton, Louis Oosthuizen, Matt Fitzpatrick, Lee Westwood and scores of others who qualified to compete. Even some who committed to playing did so with very public reservations (And, perhaps, for good measure, with the world's top ranked male, Jon Rahm, and the game's headline king, Bryson DeChambeau, testing positive and forced to stay home.)
The Olympic Spirit was on life support … until the tournament started. A tense final-round battle at Kasumigaseki Country Club resulted in Xander Schauffele's exorcising Sunday demons, completing his father's Olympic dream and winning the gold in the homeland of his grandparents. Rory Sabbatini, from Slovakia (!), won silver, while a seven-way playoff for the bronze (won by C.T. Pan of Chinese Taipei) proved curiously compelling, as so often happens when sporting events involve national pride. A week later, the women delivered an equally entertaining show, with emergent superstar Nelly Korda completing an American sweep of gold and Japan's Mone Inami edging Lydia Ko to win silver for the home country.
The fortnight felt major, and one-time skeptic Rory McIlroy's post-tournament comments hinted at the change of heart many male tour pros seem to be feeling toward the event: "I made some comments before that were probably uneducated and impulsive, but coming here experiencing it, seeing, feeling everything that goes on, not just Olympic golf but just the Olympics in general, that sort of Olympic spirit's definitely bitten me and I'm excited how this week's turned out and excited for the future." Something tells us the action in Paris won't be so sparsely attended by fans, or by the biggest names in the sport. —D.R.
No. 17: Rory McIlroy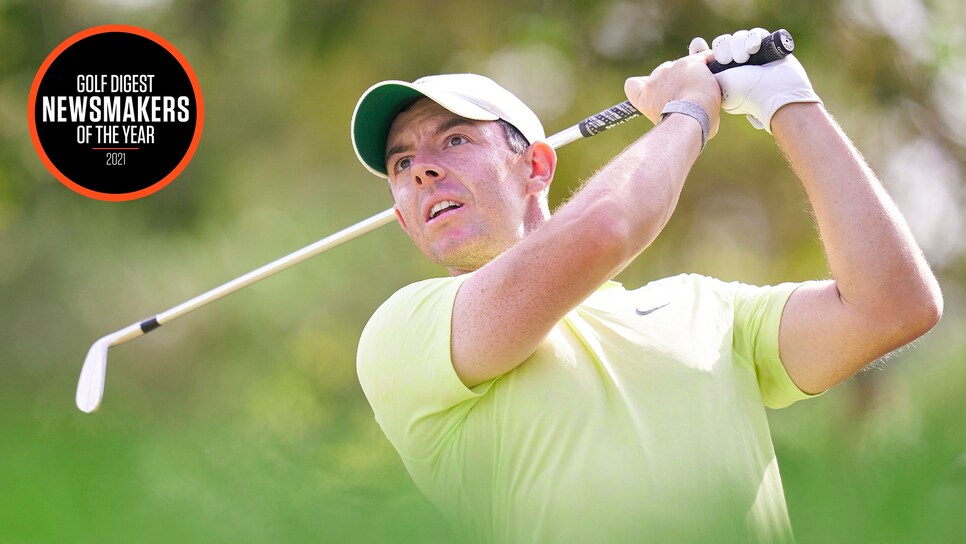 Somewhat ironically, but perhaps not too surprisingly, Rory McIlroy's final competitive appearance of 2021 ended up closely resembling much of what constituted the Northern Irishman's year on the links. McIlroy's four rounds at the Hero World Challenge in the Bahamas added up to a mediocre finish, the 72 holes containing an inconsistent mix of really fine play, some so-so stuff and, here and there, a few really big numbers. It was that sort of season for the man many see as the most naturally gifted of golf's elite. His generally desultory play in the Ryder Cup provoked tears of frustration. And in the majors the pattern was familiar.
A T-7 in the U.S. Open was good, if ultimately disappointing. The T-46 and T-49 finishes in the Open Championship and the PGA were as close to anonymous as McIlroy gets. But the missed-cut at the Masters—the missing piece in his career Grand Slam collection—represented the most disappointing aspect of a year that nevertheless boasted two victories on the PGA Tour (bumping his career total to 20) and earnings close to $4.5 million. McIlroy is held to a higher standard than most, of course. Those statistics would sound OK for the vast majority. But not for a four-time major champion. So it is that 2021 will surely go down as one of the more disappointing years of McIlroy's already Hall of Fame career. How could it be otherwise? Seven summers have passed since that fourth major victory was added to McIlroy's collection.
And at one point during 2021, the dip in the 32-year-old's performance level saw him descend as far as 16th in the world, albeit he will end the year just inside the top 10. Still, with McIlroy there remains a sense of anticipation. The flashes of almost peerless brilliance forever provide hope of better things. But at least one thing needs to change in 2022. The more than occasional making of doubles and triples is a habit that needs to be eliminated, or at least reduced. —John Huggan
No. 18: Will Zalatoris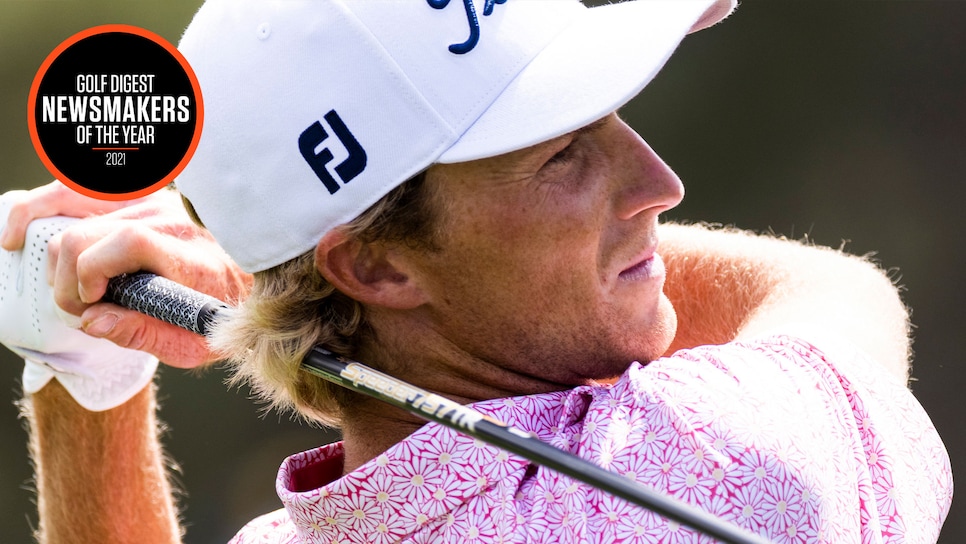 He finished runner-up at the Masters and claimed the PGA Tour's Rookie of the Year Award. Not bad for someone who wasn't technically a member of the PGA Tour in 2021. Will Zalatoris found himself in limbo between the Korn Ferry Tour and PGA Tour following a dominant 2020 campaign on the developmental circuit, but his impressive performance at Augusta National proved he belongs among the game's elite players.
The 25-year-old Wake Forest product finished one-shot back of Hideki Matsuyama to nearly become the first Masters rookie to win since Fuzzy Zoeller in 1979 and just the fourth in history. Zalatoris added seven other top-10 finishes in PGA Tour events and made nearly $3.5 million despite not being eligible for the FedEx Cup Playoffs due to having only special temporary member status—the lone way he could have become a member in 2021 was if he won a tour event. Zalatoris had a notable year off the course, too, getting engaged to his college sweetheart, which turned out to be a more nerve-wracking experience than finishing runner-up at the Masters, and getting adjusted to being "golf famous."
Now with full playing privileges—PGA Tour regulations allow his performances in 2021 to earn him a card for the 2021-22 season—and possessing one of the best iron games in the world (he ranked seventh in strokes gained/approach last season), he's got much loftier goals heading into 2022. —A.M.
No. 20: A rained-out NCAA Regional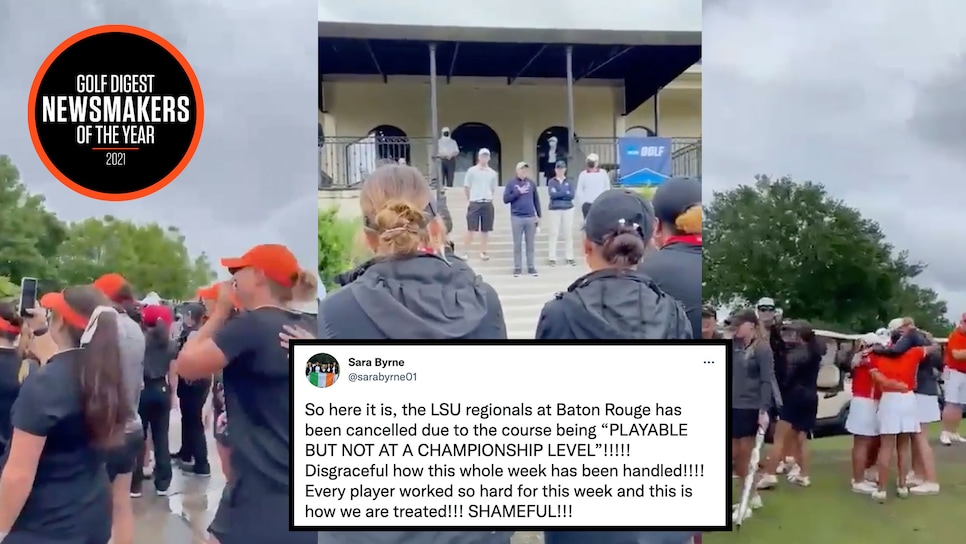 The video that University of Miami golfer Sara Byrne took lasted 71 seconds, yet its impact lingered far longer. An apologetic Brad Hurlbut, representing the NCAA, is shown explaining why the D-I Women's Golf Committee had just canceled the 54-hole Regional tournament at LSU's University Club without a single shot being struck. More than seven inches of rain had fallen during the scheduled three days of competition in May.
"Even though the course is playable," Hurlbut said, "it's not playable at a championship level." It was that choice of words that riled up the dozens of players and their families hearing the news in the clubhouse parking lot … not to mention many of the 1.7 million who ultimately saw the video after Byrne posted it on Twitter.
Playable is playable, and one round is better than none, and why can't they at least give it a try?!? While the top-six seeded schools advanced to nationals per NCAA regulations (including the eventual NCAA champs, Mississippi), 12 other schools—Oregon State, Houston, Miami, North Texas, Purdue, Mississippi State, Tulsa, Sam Houston State, Kennesaw State, East Tennessee State, Jacksonville State and Quinnipiac—faced an abrupt end to their 2020-21 college seasons. Or so it seemed.
The outcry over the decision—which included tour pros Justin Thomas, Stacy Lewis and Michelle Wie West, among others, speaking up on Twitter—led Sam "Riggs" Bozoian at Barstool to quickly muster his team to create an alternative event for the affected players, aptly titled the "Let Them Play" Classic. More than 40 golfers teed it up at Whirlwind G.C. in Chandler, Ariz., less than two weeks later, the NCAA wisely granting them waivers to compete. In the fall, the NCAA also announced it was expanding the number of Regional tournaments from four to six. That will reduce the field size at each host course to, in part, help make sure each tournament is completed even in the face of bad weather. —R.H.
So here it is, the LSU regionals at Baton Rouge has been cancelled due to the course being "PLAYABLE BUT NOT AT A CHAMPIONSHIP LEVEL"!!!!! Disgraceful how this whole week has been handled!!!! Every player worked so hard for this week and this is how we are treated!!! SHAMEFUL!!! pic.twitter.com/Z8FGrfYKLN

— Sara Byrne (@sarabyrne01) May 12, 2021
No. 20: Changes at the USGA/LPGA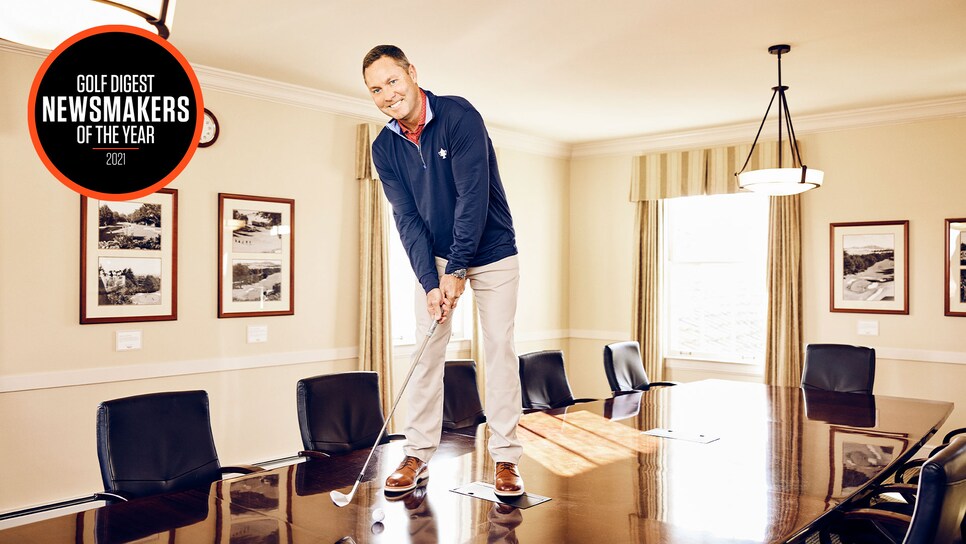 The planned departure of Mike Davis as CEO of the USGA created a ripple effect of executive changes in golf, with Mike Whan leaving the LPGA to succeed Davis and Mollie Marcoux Samaan stepping in as the second woman ever to lead the tour. Whan spent 11 years turning around the fortunes of the LPGA, helping raise the total purses in 2021 to a record $76.45 million before becoming the first head of the USGA to come from outside the association. His strong leadership skills were expected to invigorate the governing body as it aims to take advantage of the sport's increased participation while also navigating future hurdles, most notably what it intends to do to curb distance gains at golf's highest levels.
Marcoux Samaan, meanwhile, was choose to take over the reins of one of the world's strongest women's sports leagues in part because of her experience in competitive sports (she played soccer and hockey in college) that presumably enables her to communicate effectively with the LPGA membership. And while the former Princeton Athletic Director would do well to simply maintain the LPGA's healthy status quo, she definitely recognized "tremendous room for growth," recently noting how she is looking to address the gap in prize money female tour pros earn compared to their male counterparts.
The common thread between Whan, 56, and Marcoux Samaan, 52, is their passion for the game that was cultivated at a young age. It's easy to think that, as they settle into their jobs with the new year approaching, their love of golf will serve the game well, or, as Whan said himself, "make a difference in the sport." —D.S.
No. 21: Patty Tavatanakit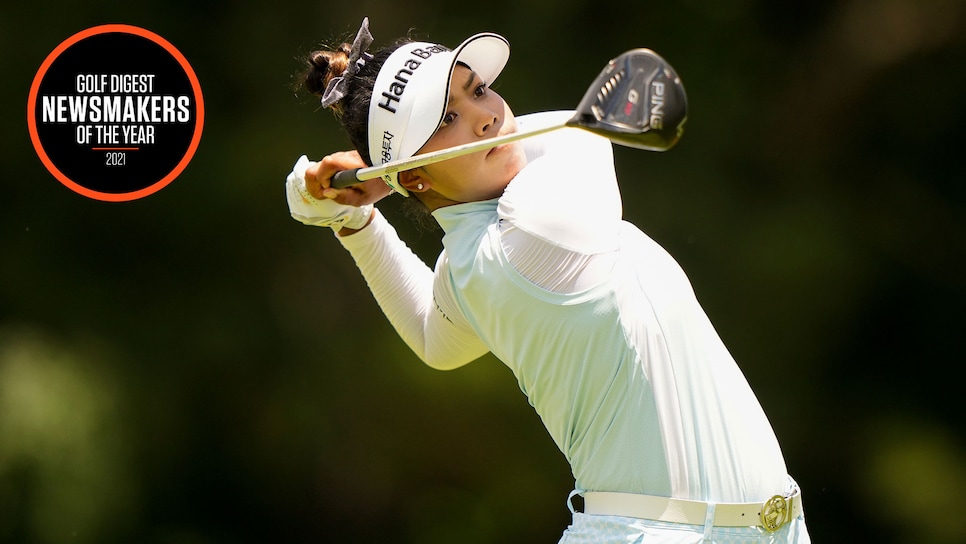 In a year's time, Patty Tavatanakit went from being a new pro trying to figure out life on the LPGA Tour to a major champion. For as remarkable as that sounds, it's even more so when you take a closer look at the accomplishment. The quirks of the COVID-19 pandemic caused the tour to let players carry over their 2020 status into 2021, which meant newcomers like Tavatanakit experienced two rookie seasons. And they couldn't have been any more different. In 2020, she played 14 events and missed as many cuts as she made. It wasn't the debut the All-American from UCLA and three-time Symetra Tour winner expected.
But in 2021, Tavatanakit was a different player. In her first event, the Gainbridge LPGA, she found herself in the final group on Sunday, eventually finishing T-5. Five weeks later, she was in the final group again: This time at the ANA Inspiration, with a five-shot lead. The 24-year-old native of Thailand held off a charging Lydia Ko (and her closing 62) to secure a memorable first LPGA victory, a first major title and the coveted splash into Poppie's Pond. Tavatanakit finished in the top-10 eight more times in 2021, clinching the Louise Suggs Rookie of the Year award when there were still two events to play in the 2021 schedule. She also won another season-long award, the Rolex Annika Major Award, for the best collective performance in the year's majors (she also finished T-5 at the KPMG Women's PGA Championship and T-7 at the AIG Women's Open).
"It means the world to actually win an LPGA Tour event to begin with, and on top of it, doing it at a major, it's been surreal," Tavatanakit said after the final round of the ANA. "I always wanted to win a major, and my goal for my career is to get a grand slam obviously, and I got one checked out."
But why was 2021 so different from 2020? She told Golf Digest via email on Monday. "I honestly felt prepared to win every time I teed it up. Then, once I did, the floodgates opened because I'd proven to myself that we were going about it the right way. The only thing that really changed over the course of the past two years was my mindset once I won. That's where I feel everything shifted." —K.L.
No. 22: Advocates Pro Golfers Association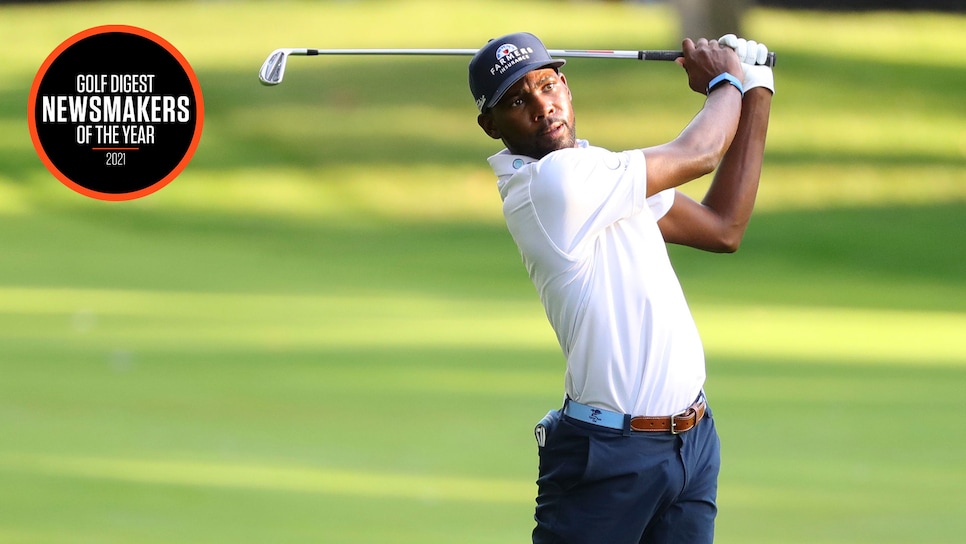 Kamaiu Johnson's story of resilience is incredible. So is Willie Mack's. Both men were homeless and slept in their cars at times as they tried to make a living as professional golfers. As Black men, they faced long odds in ever getting started in golf, and once they excelled, they still struggled to find sponsorships and supporters that are critical to paving a road to the big leagues. Their prospects were buoyed by the Advocates Pro Golfers Association, a tour founded in 2008 expressly for golfers of color.
The APGA took an enormous step toward its greatest ambitions in 2021. Inspired by meeting APGA players at Torrey Pines a year earlier, Farmers Insurance CEO Jeff Dailey spearheaded the offering of a sponsor's exemption to a top player from the APGA for the '21 Farmers. It was the big break the APGA needed. The recipient was Johnson (above), a 27-year-old Floridian whose elation turned to heartbreak when he tested positive for COVID-19 after he arrived at Torrey Pines. Mack, 32, another APGA stalwart, took Johnson's place, and once their names were out there, one opportunity begat others.
Between them, Johnson and Mack appeared in eight events during the season on sponsor's exemptions, carrying the message of the APGA's mission with them. Mack thrilled his supporters by making his first PGA Tour cut in July at the Rocket Mortgage Classic, and there was bigger news to come: On Sunday of the NFL conference championship games in '22, the final round of the APGA's tournament at Torrey Pines (following a Saturday finish by the Farmers Open) will be televised by Golf Channel. With the year they'd had, don't be surprised if Kamaiu Johnson or Willie Mack is hoisting the trophy that day. —T.L.
No. 23: Name, Image and Likeness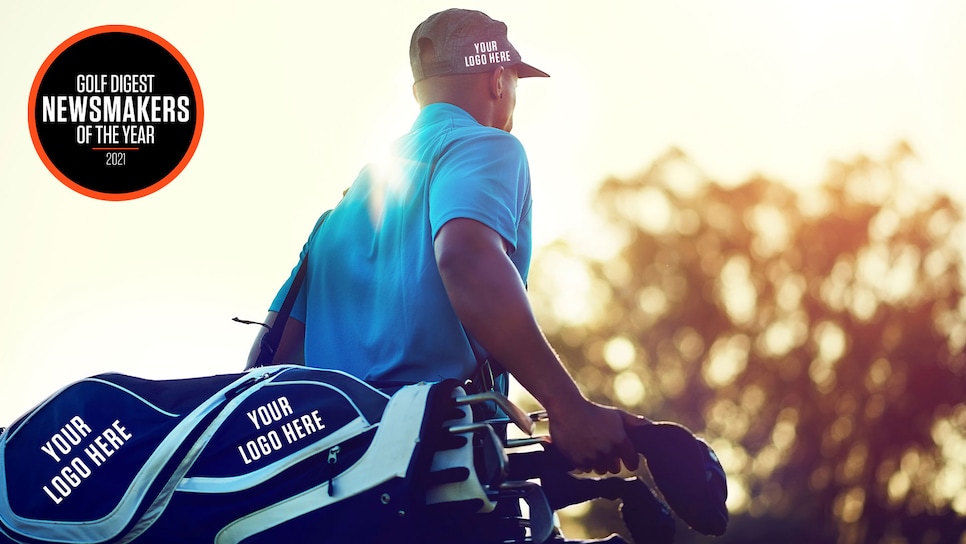 Golf's Rules of Amateur Status have always been fairly definitive: Only professionals can profit off their name, image and likeness (NIL) with regard to their golf skill or reputation (unless that amateur is Tony Romo promoting golf shoes, but that's a different story). In recent years, however, officials with the USGA and R&A have come to appreciate that playing modern amateur golf is different than in previous eras.
In many cases it's a journey to an eventual career as a pro, yet the cost of that journey limits some with the talent but without the means to pursue it. And so, after much discussion, the powers that be decided a modernization of the Rules of Amateur Status was appropriate. Among the updates that go into effect Jan. 1, 2022: players are allowed to accept expenses to help with travel costs with no restrictions and, yes, even make a buck or two from advertisements and marketing promotions. That the changes come at the same time as the NCAA also suspending its rules prohibiting student-athletes from selling the NIL rights points to the evolution in mindset regarding amateurs and the ability to benefit—re: profit—from their success at any age and station in life.
Short term, golf's updates mean highly touted, nationally ranked players can be compensated for their play and celebrity (although no big-ticket contracts have been inked). On the horizon, however, the hope is that the new rules will no longer hinder fledgling golfers from development because of financial constraints. —Joel Beall
No. 24: J.R. Smith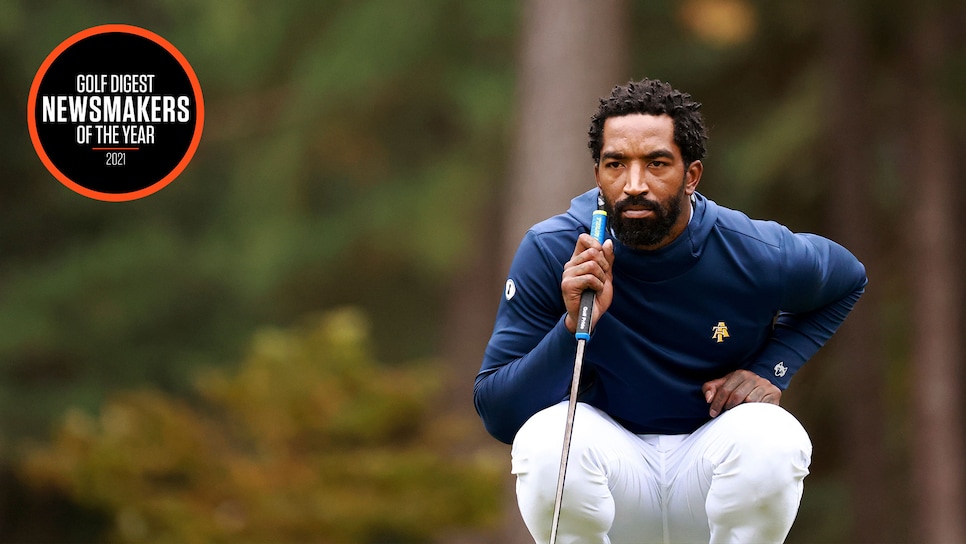 Making the jump from high school to the NBA is a rare feat only a handful of players can say they've successfully accomplished. Making the jump from the NBA back to college to play a different sport is even more unheard of. J.R. Smith, a two-time NBA champion and former Sixth Man of the Year, can now say he's done both, which made him one of the most fascinating stories of the year in golf.
The 36-year-old enrolled at North Carolina A&T in August to pursue a degree in liberal studies—and also to potentially play on the Aggies golf team. In a shocking bout of common sense, the NCAA granted Smith a waiver to join the men's golf team, and in October he made his college golf debut, which quickly became the most talked about college golf debut in recent memory. Smith rocked a hoodie and joggers, stuck an approach shot to a foot, made a couple of birdies and was even stung by a bee while searching for his ball (true story).
The best part? Smith seems far more interested in the full college experience (he says he's working on a 4.0 GPA) than just playing on the golf team. We all wish we could go back to college. Smith actually did it, though, in his case, he never got to go in the first place. He's clearly making amends now, and we're all extremely jealous. —C.P.
No. 25: Annika Sorenstam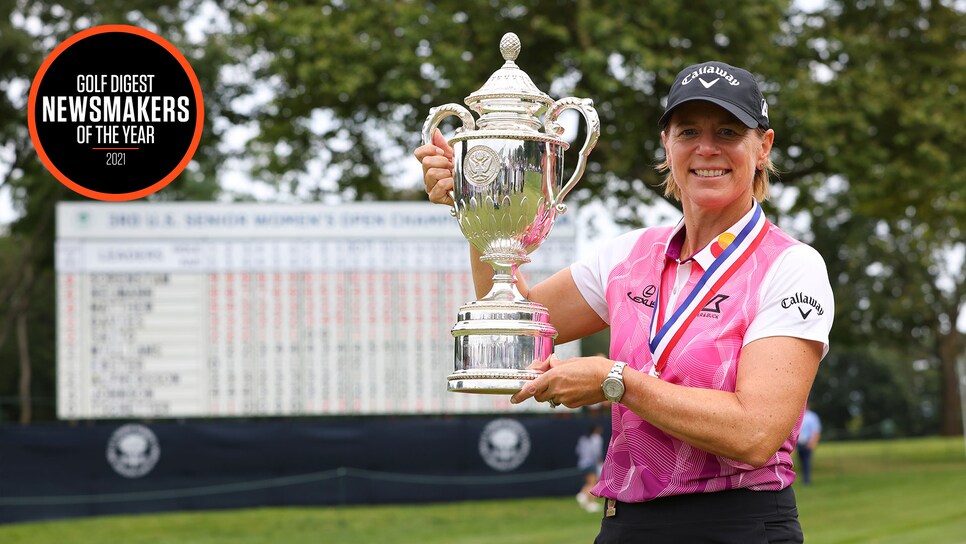 There was something both impressive and maddening about Annika Sorenstam's retirement from professional golf in 2008. The then 38-year-old was still playing well enough to have the chance to chow down on every significant LPGA record there was, but she had the willpower to push away from the table when she knew she was full at 72 LPGA wins and 10 majors. Disappointed fans were left wondering what might have been while the Swede focused instead on what was to come—namely raising a family and growing the game through her Annika Foundation.
Fast forward to 2021, and Sorenstam's decision to return to competition after turning 50 the previous October by playing in the U.S. Senior Women's Open. Fans now wondered why would Sorenstam potentially spoil her competitive legacy with a comeback, particularly after seeing so-so play from her in a handful of warm-up events ahead of her start at Connecticut's Brooklawn Country Club in August. But Sorenstam saw it differently, the outcome not quite as important as the journey itself, her husband, Mike McGee, and children Ave and Will, joining her. And once she teed it up with her peers, it was as if time had frozen. Sorenstam didn't hit it as far, but did hit is as straight and come the final round, she quickly remembered how to close out a victory. After starting the final round with a two-shot lead, she stretched it to an eight-shot rout for her fourth career USGA title.
There were tears, smiles and hugs on the 18th green, Ava and Will—seeing for the first time themselves their mom walk off with a trophy rather than watch it on YouTube. "There's no doubt I'm in a different time in my life," Sorenstam said. "I'm very happy with my family, and that's what means the most. I have a distance now from golf. Every shot doesn't mean as much as it used to, even though I care, but I know by the end of the day I've got them, I've got the support and I'm living my life." —R.H.
This article originally appeared on Golf Digest.